Welcome to the
Hotel Weißes Roß!
Welcome to our family-run Marienberg hotel – richly traditional address filled with attentive hosts ready to treat you to a wide range of enticements and attractions as well as personal service all year long.
We look forward to welcoming you to the Hotel Weißes Roß and helping you arrange a most unforgettable holiday in the Erzgebirge mountains!
Sincerely,
The Weiß Family

How to get here
Arriving by car
A4 exit Chemnitz-Süd (15) / toward Marienberg
Neefestraße / Südring
B174 toward Marienberg / Zschopau
The Weißes Roß is located right at the center of Marienberg.
From Marktplatz, continue just 100 meters toward Reitzenhain.
Arriving by rail
Take the Erzgebirgsbahn railway to Pockau or Wolkenstein.
Hotel shuttle service available by appointment.
Reserve at the same time:
Compact VW Fox
starting at € 45.00/day
Our rental partner: EUROMOBIL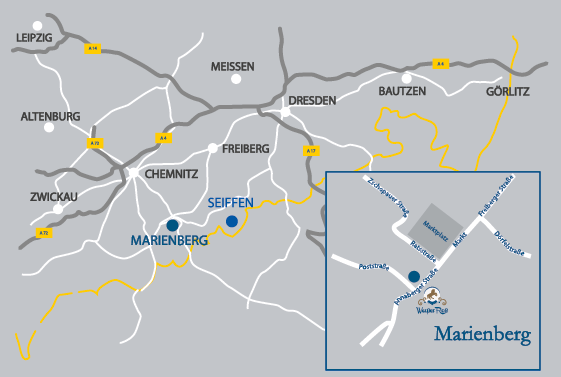 Hotel Weißes Roß
Annaberger Straße 12 • 09496 Marienberg • Germany
weisses-ross@erzgebirgshotels.de
fon +49 (0) 3 73 5 . 68  00 - 0
fax +49 (0) 3 73 5 . 68  00 - 77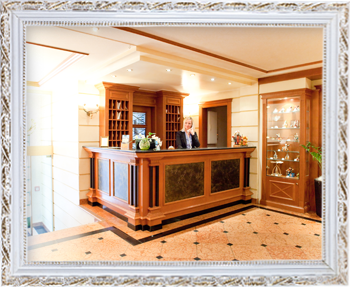 We are looking forward
to your Message!
"Phenomenally dedicated staff and out-of-this-world food."

Holger, www.holidaycheck.de
"We absolutely love the Hotel Weißes Roß! From our room to the friendliness of the staff to the cleanliness to the food. Every little thing just made it such a wonderful short holiday for us."

Grete, www.holidaycheck.de
"You really know how to spoil your guests on short holidays."

Ina, www.holidaycheck.de
"Very clean hotel/room, the staff is friendly and helpful – excellent breakfast buffet! We'll definitely be back, the location is perfect for day trips throughout the Erzgebirge."

Renate on www.booking.com
"Very pleasant atmosphere. Everything was as promised Genuinely traditional. The food at your Roßtunnel restaurant was amazing! So were the servers."

Stefan on HRS
"I highly recommend your adjoining restaurant!"

anonymous on HRS
"Centrally located, very friendly and helpful staff, clean, comfortable, homey atmosphere, my wife and I had a great time and we'll definitely return!"

Wolf-Rüdiger on HRS